DIY Citrus Summer Tablescape
jazz up your table this summer with this quick and easy table runner made with fresh citrus. the best part? it makes for the perfect after-meal snack.
Summer Entertaining is in full swing.
I can't believe I'm typing this but it looks like summer has finally arrived in the city and I couldn't be more thrilled! There's no need for those winter blues anymore because summertime is here to stay. As the days get longer and temperatures climb, you know exactly what this means… relaxing nights on the patio, outdoor cooking, hangs with friends and loved ones and lastly, taking the opportunity to soak in as much vitamin D possible.
During the summer months, we often find ourselves immersed in all things citrus from cocktails and food to desserts and even decor. With the rise in temperatures and hot summer days approaching, there's nothing more refreshing that indulging in a variety of fresh citrus… so we did just that! This past week, I got together with fellow friends and talented creators from the community, Nick from @inspiredbynick and Krystle from @dineandfash and hosted a Moroccan-themed backyard party at Nick's house featuring a wide variety of citrus from Sunkist. When we began conceptualizing our outdoor get-together, we all knew that we wanted to bring a bit of culture to this party hence the influence of Moroccan colours and flavours.
Each one of us contributed to the gathering by taking charge of different elements for the party. Nick took care of the drinks, Krystle put together a delicious Moroccan menu featuring chicken tagine, jeweled rice and more and me, well I was in-charge of styling the table and adding in the decor pieces to create the ultimate ambiance and mood for our get-together!
I'm not going to lie, putting together a tablescape and styling a table is my jam. Much like styling food, you have to play around with different elements to create the perfect scene. Starting with a blank canvas, I put together a table runner as the focal point for the table with a variety of Sunkist citrus being my inspiration. After you've consumed your meal, your guests can grab a citrus from the table and eat it as an after-dinner snack making this a zero-waste table runner.
Learn more about Sunkist oranges and the different varieties of oranges they carry here.
Tablecloth of your choice, I opted for an organic white cotton tablecloth. (optional)
Burlap table runner
Mix of greens, Silver Dollar Eucalyptus, Nagi and/or Salal work best.
Mix of Sunkist citrus, I opted for Navel Oranges, Lemons and Red Grapefruit.
Variety of candles + candle holders, I opted for a mix of tea lights and taper candles.
Begin by laying down your tablecloth on the table. If using a tablecloth isn't your thing and prefer going for a more rustic-look then by all means disregard this step.

Place a burlap table runner in the centre of your table and use this as the base for your citrus table runner. This adds texture to the table and breaks up the white from the tablecloth.

Begin by placing either your Nagi or Salal leaves on the runner and start layering in stems of silver dollar eucalyptus. Feel free to get as creative as you want here! There is no right or wrong way and you can add as little or as many greens as you like depending on the look and feel you're going for. As a reference point, I used two Nagi stems as the base and about five to six stems of silver dollar eucalyptus.

Scatter your candles and candle holders on the table. I opted for a mix of tea light and taper candles to add depth to the table.

Add in the Sunkist citrus elements to the table. I cut my Navel oranges and red grapefruit in half but left the lemons whole for the table to add variety to the runner. Using the Navel oranges as a reference point, I scattered them throughout the leaves and then added the grapefruit halves along with whole lemons. Just like the greens in step three, feel free to get creative here as well! I opted for a wide variety of citrus to add a pop of colour to the table and to fit our Moroccan theme however if you like, you can pick and choose ones that work for your table!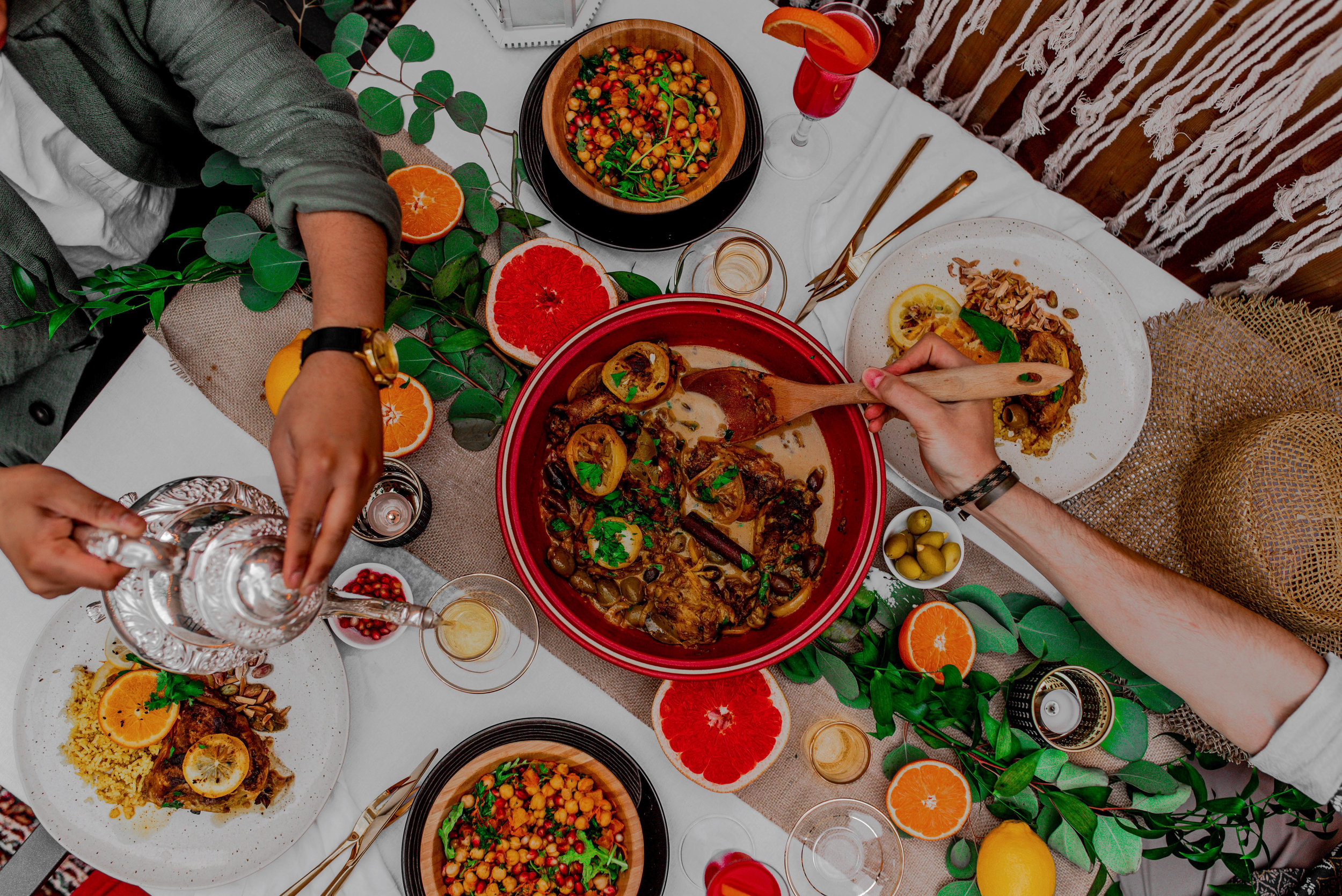 DISCLAIMER: THIS POST IS IN COLLABORATION WITH SUNKIST CITRUS. HOWEVER ALL THOUGHTS AND OPINIONS EXPRESSED ARE MY OWN.