Baked Pears in Puff Pastry
recipe: baked pears in puff pastry with brie and almond filling.
i absolutely love the combination of sweet, crunchy pear with creamy brie and toasted almonds. encompassed in flaky, buttery puff pastry - this recipe will warm your soul this winter.
The most wonderful time of the year is here. It's the second week of December. Everyone's putting up their Christmas trees. The holiday drinks are out. Christmas shopping is in high gear. But most importantly, the holiday feasting has begun!
how to shop for pears.
What to Look For:
Pears vary in colour depending on the variety. Choose pears that are firm with no soft spots or blemishes.
How to Store:
Pears are unique in that they are best when picked unripe and then allowed to ripen off the tree. Choose hard pears and leave on a counter to ripen. A pear ripens from inside out, so check for ripeness at the thinner stem end - the flesh should yield to gentle pressure. Once completely ripe, transfer pears to the refrigerator and use within two to three days.
Winter brings out my inner baker. I don't know what it is. Perhaps it's the drop in temperatures or maybe it's the desire to snuggle while indulging in something warm. Either way, I'm not complaining. When I think of winter fruits, I instantly think of pears. It's crunchy like an apple yet juicy and fuzzy like a peach. When baked or poached with a few spices such as cinnamon, they are pure perfection. During my recent trip to the grocery store, I came across a few ripe bosc pears and I instantly knew I wanted to bake with them.
After scrolling my phone endlessly for inspiration in the middle of the produce section, I came across a recipe for baked pears in puff pastry. Now, I may know how to make a Coq Au Vin but by no means am I a seasoned pastry chef. As a matter of fact, pastry is something I struggled with the most during culinary school. My hands can dice an onion with ease but ask me to delicately fold pastry dough and game over. To make me feel like a pro without the hassle of measuring ingredients and delicately folding pastry dough again and again... and again, Tenderflake came to the rescue. Off to the frozen section I went and there, glistening in its bright yellow packaging was Tenderflake's ready-to-use rolled puff pastry sheets - the answer to all my problems and my secret weapon when it comes to baking. Made with simple ingredients that are easy to use and taste great, Tenderflake's puff pastry sheets acted as the base to my bosc pears stuffed with brie and almonds.
baked pears in puff pastry with brie and almond filling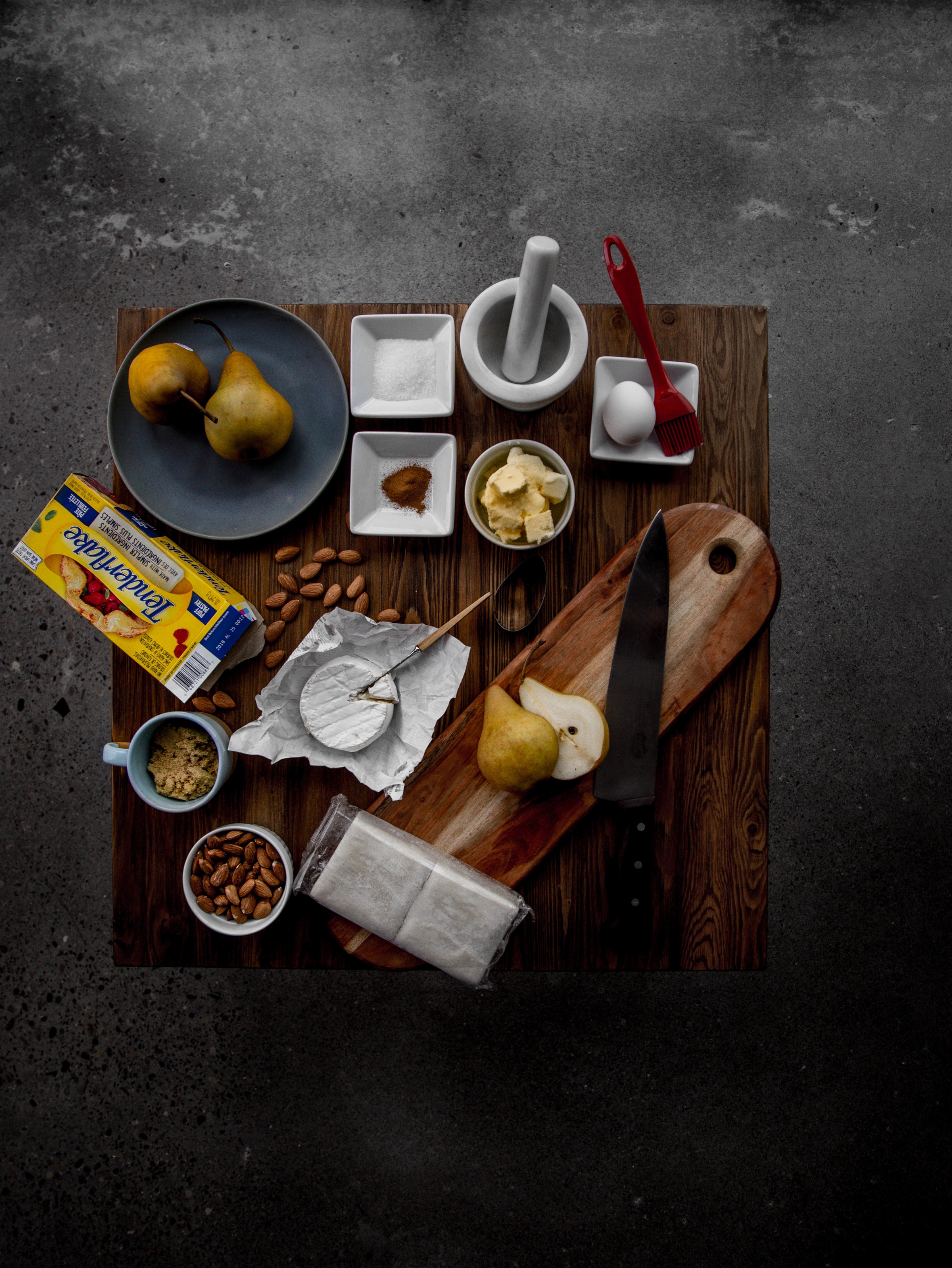 • 1 pkg. Tenderflake Rolled Puff Pastry Sheets
• 1 cup almonds
• 1/2 cup brown sugar
• 1/2 stick unsalted butter
• 2 tsp. salt
• 1/2 tsp. cinnamon
• 3 pears, peeled (optional), cored, and halved
• 6 oz. Brie cheese (rind intact)
• egg wash (1 egg and 2 tbsp. water, beaten)
toast almonds in a dry pan. place on baking tray and allow it to cool.
once almonds are cooled, crush using a mortar and pestle and transfer to a mixing bowl. add brown sugar, butter, salt and cinnamon. mix until a smooth paste is formed. set aside in refrigerator.
unroll the refrigerated Tenderflake Rolled Puff Pastry Sheets and cut into six pear shapes.
slice and peel (optional) pears. remove the core using a spoon.
fill cored pears with almond stuffing.
cut brie into chunks with rind in tact that fit into the hollowed out cavity.
press down a chunk of brie in the almond filling.
use the excess trimmings to make 4 leaves and cut with a knife.
prepare egg wash - one egg and two tbsp. water.
bake in the oven at 400°F for 15-20 mins. or until golden brown.
DISCLAIMER: THIS POST IS IN COLLABORATION WITH TENDERFLAKE. HOWEVER ALL THOUGHTS AND OPINIONS EXPRESSED ARE MY OWN.