Ricarda's
A restaurant built upon the romance of food.
It doesn't matter if you've been together forever or you're just starting off in your relationship, good food, a bottle of bubbly, and an inviting atmosphere is sometimes all you need to spark the romance in your day. These relationships can range anywhere from family, friends or your significant other.
This past Sunday I treated three of my closest friends: Kim (@hungrykimmy), Nick (@hungrynicky) and Michael (@globalgarcon) to a drool-worthy Jazz Brunch at Ricarda's. Kim and Nick are more than just friends. They're family. We always joke that I'm their adopted son and sometimes I like to think that's true. We live an elevator ride away from each other and collaboratively run The 3 Spoons: a food culture magazine. Michael on the other hand runs an online fashion and lifestyle blog: Global Garcon and he's been my right hand in a majority of my projects. Together, we came together to share our love for food. Regardless of where we dine, we always enjoy a meal as a shared experience.
Kim and Nick recently tied the knot in Mexcio and to celebrate love, friendship and life in general, Ricarda's was the perfect spot.
The space is the perfect intersection between the old and new world. Located at the corner of Richmond and Peter Street, Ricarda's opened its doors in the former Weston Bakery biscuit factory and renovated it with polished gold details, olive green banquettes and a combination of wood and marble tables. Not to mention floor to ceiling windows that allow ample light to shine through during the day.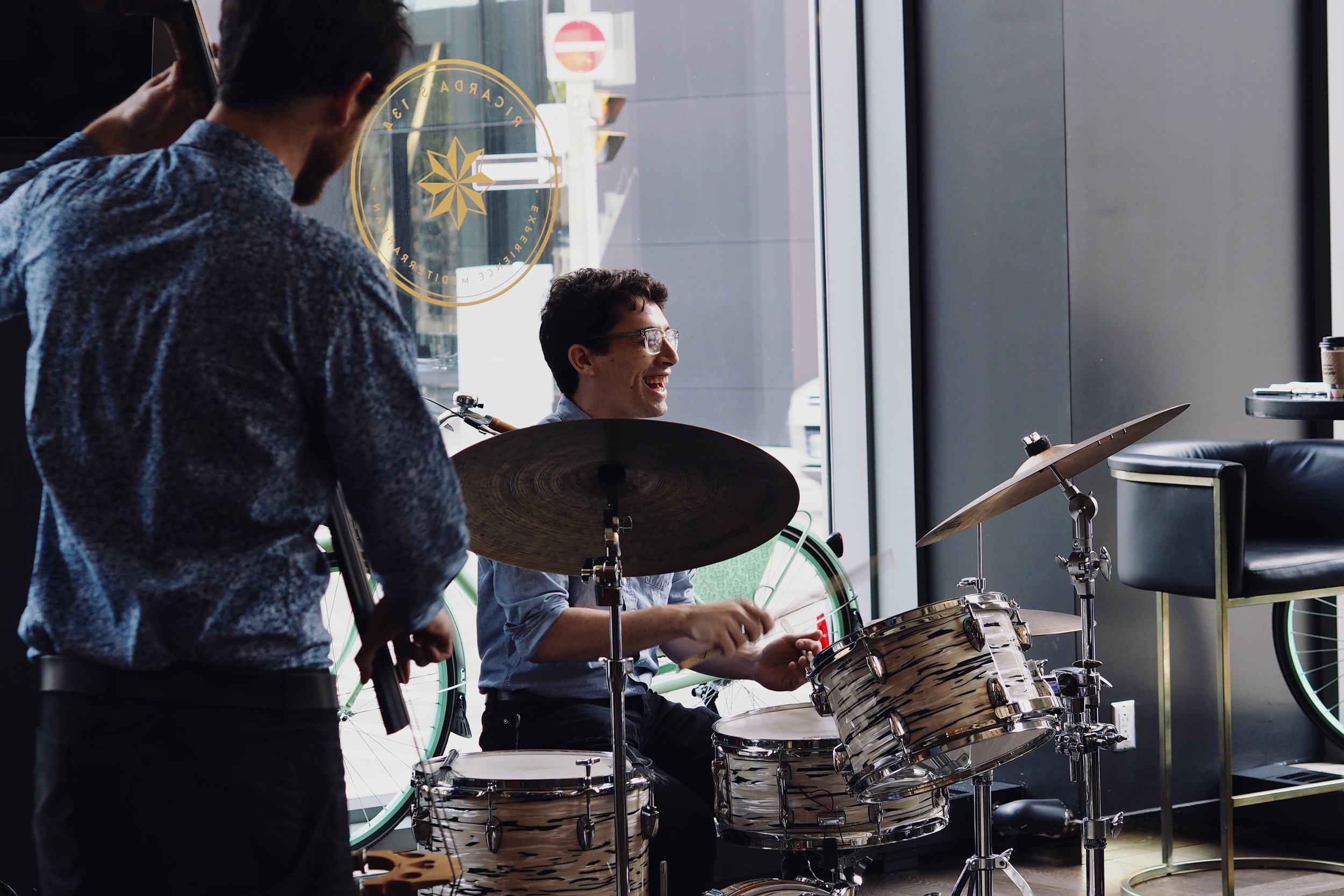 Upon arrival, we were instantly transported out of Toronto into what one could only imagine a bakery and kitchen in modern Europe. The entrance is unlike your typical restaurant. We walked into the smells of fresh flatbread coming out of the oven. My eyes wandered to all the different food stations set up and instantly my tummy rumbled. It's no joke that you eat with your eyes first and Ricarda's knows how to build up your appetite!
Seconds after we sat down, our server offered to take us on a little food-tour showcasing the selection Ricarda's offers during its Jazz Brunch. The spread is served in a buffet style format but if that's not your thing, you have the option to order off the a la carte menu. If you're looking to indulge in a feast much like we did, I highly recommend boozy brunch option that also comes with a beverage buffet featuring house wine, cava, and caesars valued at $30 more than just the regular buffet which is valued at $55.
The price is a little steep compared to your average weekend brunch but in this case you're definitely paying for quality ingredients (fresh seafood, FOIE GRAS and much more!), live jazz entertainment and lastly an endless amount of food + booze. Coming with a big appetite and an empty belly will definitely take you a long way as you work your way through all the mouth-watering stations at the buffet.
Throughout our service, we were well taken care of. The friendly staff, relaxing atmosphere and attention to detail made our overall experience worth while. After three hours of indulging, countless drinks and one too many plates of foie gras' later, our boozy jazz brunch came to an end. I couldn't have asked for a better way to spend my Sunday than in good company with close friends.
Ricarda's is located at 134 Peter St. The nearest major intersection is Richmond and Peter St. They take reservations for brunch unlike most places saving you the time and effort wasted in waiting! They also have a monitored kid zone with bouncy castles and toys to keep your kids occupied giving you the opportunity to relax and enjoy your brunch.
Disclaimer: This post is in collaboration with Ricarda's. However all thoughts and opinions expressed are my own.