Wild Cooking
Just as any great carpenter requires the right tools to get the job done, so does a chef require the right tools - in this case pots and pans. Proper cookware is quintessential to creating drool-worthy dishes in the kitchen. It will reduce cooking times, use less energy and cook food more evenly therefore don't be shy to splurge a little, it's worth it!
If you've been following my journey on Instagram, you will notice that I love food. When I took the leap of faith and moved to Toronto for Culinary school back in 2012, I gained a whole new appreciation for the art of cooking. Knowing how to cook allowed me to turn fresh ingredients into delicious meals. Having grown up watching television programs like the "Original Iron Chef" in addition to my family having a strong influence on my interest in the art of cuisine, I was brought up with the impression that food must not only taste amazing but it should equally look the part because when hunger strikes, often you eat with your eyes first.
I recently turned 23 and this year on my birthday I promised myself that I would take more risks, be more adventurous, indulge but not over-indulge, spend more time with loved ones and lastly spend more time with myself. When All-Clad reached out to take me on an adventure to cook in the wild using their phenomenal pots and pans, I instantly knew this would be an experience of a lifetime. I've never been camping before (shocking since I'm from Alberta!) so this posed as the perfect opportunity to not only put my culinary skills to the test but step out of my comfort zone and create something extra-ordinary alongside two of my favourite people both online and offline: Alexa (@ajfernando) and Anna (@food.diva).
One of my all-time favourite chefs secondary to Julia Child is Jamie Oliver and it was no doubt that I was going pull out some of my favourite recipes from his cookbook "Jamie's Food Revolution" to re-create over the weekend. (shoutout to @hungrykimmy for gifting me this cookbook) Prior to the trip, Alexa, Anna and I collaboratively came up with a menu for the weekend for the three meals that we would be cooking together: breakfast, lunch and dinner. We assigned a team lead for each meal giving everyone the opportunity to play the role of "Executive Chef" while the other two took the roles of a Sous Chef. I chose to tackle dinner.
When you're in the wild, you're limited to the resources you have on site. In our case, we had access to an open fire, a portable Coleman burner, an on-site BBQ and of course All-Clad kitchen equipment. Keeping that in mind, I designed a menu that included a bunch of smaller portions to be consumed "family style" similar to the type of experience one would have at home. I love the concept of sharing food and it has and always be my medium to connect with others. If you think about a special occasion in your life from birthday's to weddings, food is most likely the centre of each one. We use food to mark a special occasion and cooking in the wild with All-Clad was surely just that.
Inspired by the location: Rice Lake
On the Menu with All-Clad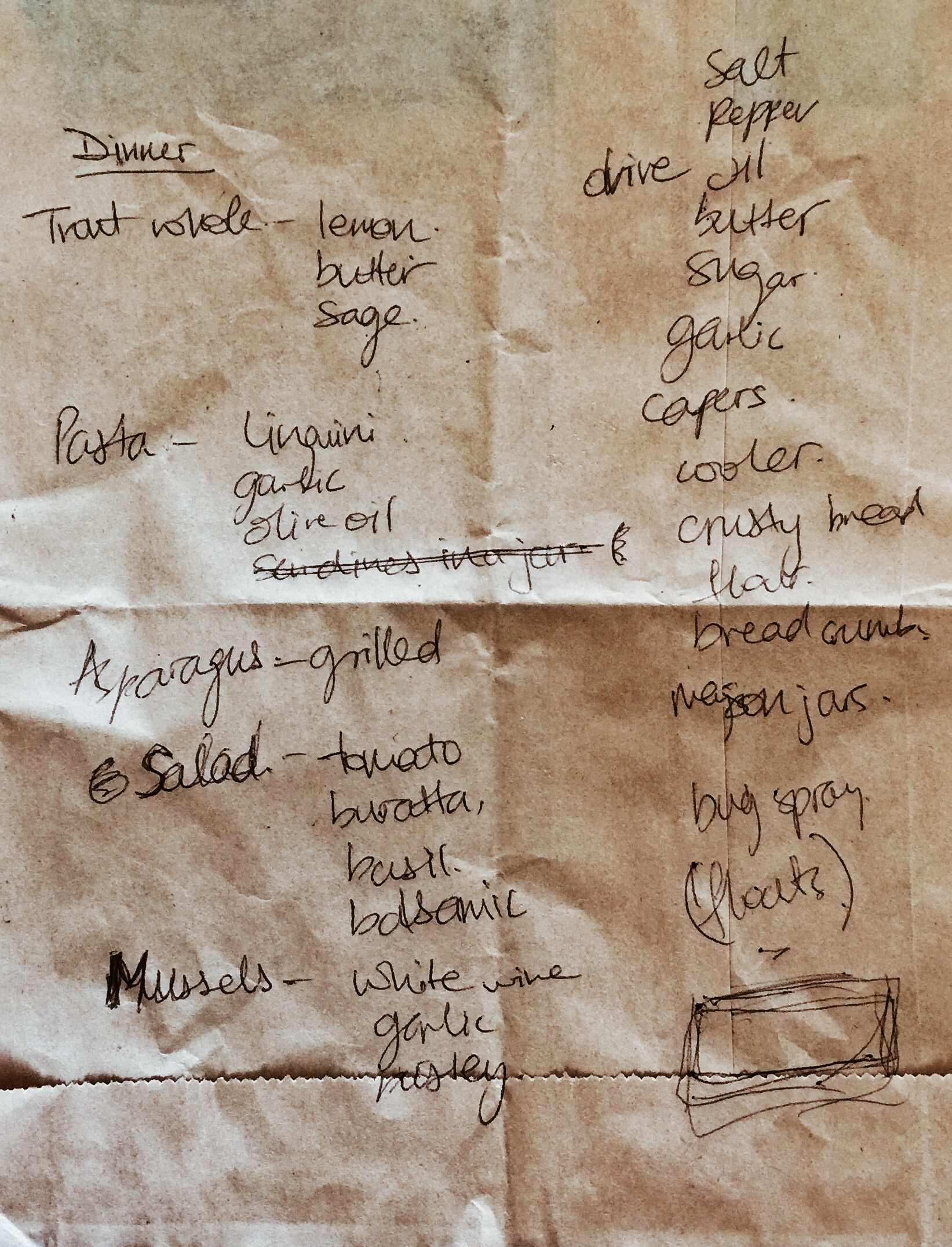 Call me old-school but before i plan out an elaborate meal, I like to jot down my thoughts on a piece of paper first. A week prior to the trip, Anna and I got together at a coffee shop and began brain-storming ideas on the back of a brown paper bag while Alexa was on the phone. This was only the beginnings of the feast to come.
Pan-seared Rainbow Trout stuffed with fresh Lemons and Sage finished a Brown Butter sauce.

Jumbo Prawns tossed with Garlic and Herbs, finished with freshly squeezed Lemon Juice.

Linguini with Razor Clams tossed in Olive Oil and Garlic finished with grated Parmesan.

De-constructed Caprese Salad

Sauteed Asparagus

Slow-cooked, caramelized Pearl Onions
The Payoff aka. The Ultimate Feast!
Overall, the experience was one I'll cherish for time to come. The pots and pans that All-Clad provided us for the trip worked seamlessly. It's no surprise that All-Clad cookware is the undisputed choice in most higher end kitchens and putting it to the test in the wild was a fun experience alongside two good friends. The cookware with-stood everything we threw in it and the payoff was nothing short of delicious. What may look like a lot of food was surprisingly all demolished my four hungry bellies. The best part of this entire experience was sitting by the docks, popping open a bottle of wine and indulging in this feast together... family-style!
Disclaimer: This post is in collaboration with All Clad Canada. However all thoughts and opinions expressed are my own.