Summer of Swizzle
recipe: queen's park swizzle cocktail.
it's time to slap, dash, pour and swizzle into summer with this refreshing rum cocktail enhanced by a bartender's essential ingredient - ANGOSTURA aromatic bitters.
I love the art of mixology.
Watching a bartender, also known as a bar chef (I like the term bartender more), do his/her magic behind the bar mixing and crafting cocktails has always fascinated me. The way they work their magic and somehow have every concoction memorized is mind blowing. While going out for a drink with friends, I have a list of go-to cocktails I typically order, however, sometimes I like to be surprised with an unknown concoction crafted by the bartender. In most cases (9/10 times), the bartender creates a cocktail that I love and I'm instantly left in awe. How do they do it?
After moving to Toronto from Calgary, I've mastered the art of cooking, but I haven't mastered the art of mixology. This summer I told myself that I would buy a cocktail kit and start experimenting with cocktails at home. So far, so good! Over the years of living in the city, I've built quite the extensive collection of liquors and I'm super proud of my liquor cabinet (My dad taught me well!). After watching countless YouTube videos and reading recipe books, I'm happy to say that I taught myself how to "bartend" at home over the past month. I'm no pro but, hey, I'd say I'm pretty decent!
The most recent addition to my cocktail kit has been a swizzle stick. Now, you're probably reading this and wondering what a swizzle stick is. (Don't worry, I didn't know either until recently!) A swizzle stick is used for stirring still drinks or taking the fizz out of sparkling ones. It also circulates crushed ice within a drink for the perfect degree of dilution. This process is most commonly known as swizzling. Traditionally, the swizzle stick is crafted from the wood of the Quararibea turbinata tree, native to the Caribbean. These sticks come from the trees' branches, which typically have a distinct maple scent that emboldens flavor within swizzled cocktails.
Ready. Set. Swizzle!
The heat wave that we've been experiencing this summer in Toronto calls for all things iced, including cocktails, and no cocktail is more perfectly iced than the swizzle. For this reason, summertime is the perfect time to drink a swizzled drink. These Caribbean classics bring tiki to a new level, making them the perfect drink for warm-weather celebrations. Using my swizzle stick, I decided to make a classic swizzled cocktail: The Queen's Park Swizzle. The Queen's Park Swizzle was named for the Trinidadian hotel where it was first concocted in the 1920s. It combines the dark rum of your choice and rich Demerara simple syrup with a bouquet of fresh mint, a squeeze of lime and several dashes of ANGOSTURA® aromatic bitters. ANGOSTURA aromatic and orange bitters are the essential ingredients to bring signature swizzled drinks to life, much like this rum classic.
THE HOUSE OF ANGOSTURA®, based in Trinidad and Tobago, has been blending bitters for more than 190 years and producing fine rums for 130 years, mastering the art of aging and blending. Using a secret recipe, closely guarded to this day, ANGOSTURA aromatic bitters are recognized as the world's first and best-selling cocktail bitters.
Fun Fact: ANGOSTURA aromatic bitters' too-big label came into being when the Siegert brothers (sons of the legendary Dr. Siegert, who first crafted ANGOSTURA aromatic bitters as a medicinal elixir) divided tasks – one brother was responsible for labeling, and the other was responsible for bottle sourcing. The two miscommunicated, resulting in a mistakenly oversized label that to this day remains the brand's signature.
step one.
grab a glass and add four-or-so fresh mint leaves into the glass.
step three.
add 1 oz of Demerara simple syrup.
step five.
add two dashes of ANGOSTURA orange bitters. the complex blend of tropical oranges and spices complements the rum extremely well in this cocktail.
step seven.
fill glass 3/4 with crushed ice.
final step.
add more crushed ice and several dashes of ANGOSTURA aromatic bitters. garnish with a sprig of fresh mint.
step two.
add 1 oz of fresh lime juice.
'
step four.
lightly muddle the mint.
step six.
add 2 oz. of a dark rum of your choice. i opted for a dark spiced rum.
step eight.
It's time to swizzle. grab your swizzle stick and work it back and forth between your palms or fingers until the outside of your glass is frosty. the motion is much like how you'd light a campfire with the friction of sticks.
enjoy!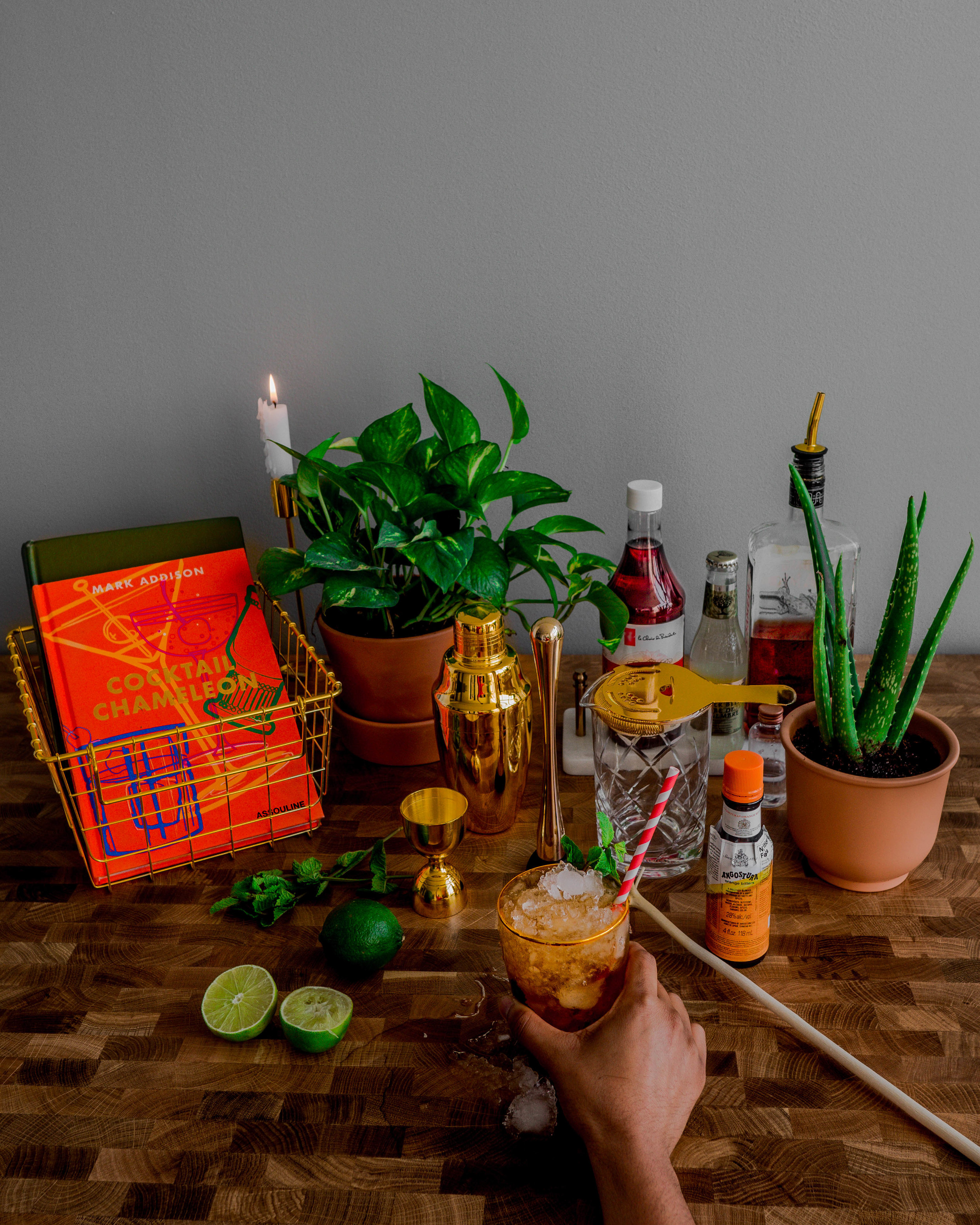 DISCLAIMER: THIS POST IS IN COLLABORATION WITH ANGOSTURA® bitters. HOWEVER ALL THOUGHTS AND OPINIONS EXPRESSED ARE MY OWN.