Entertaining with Structube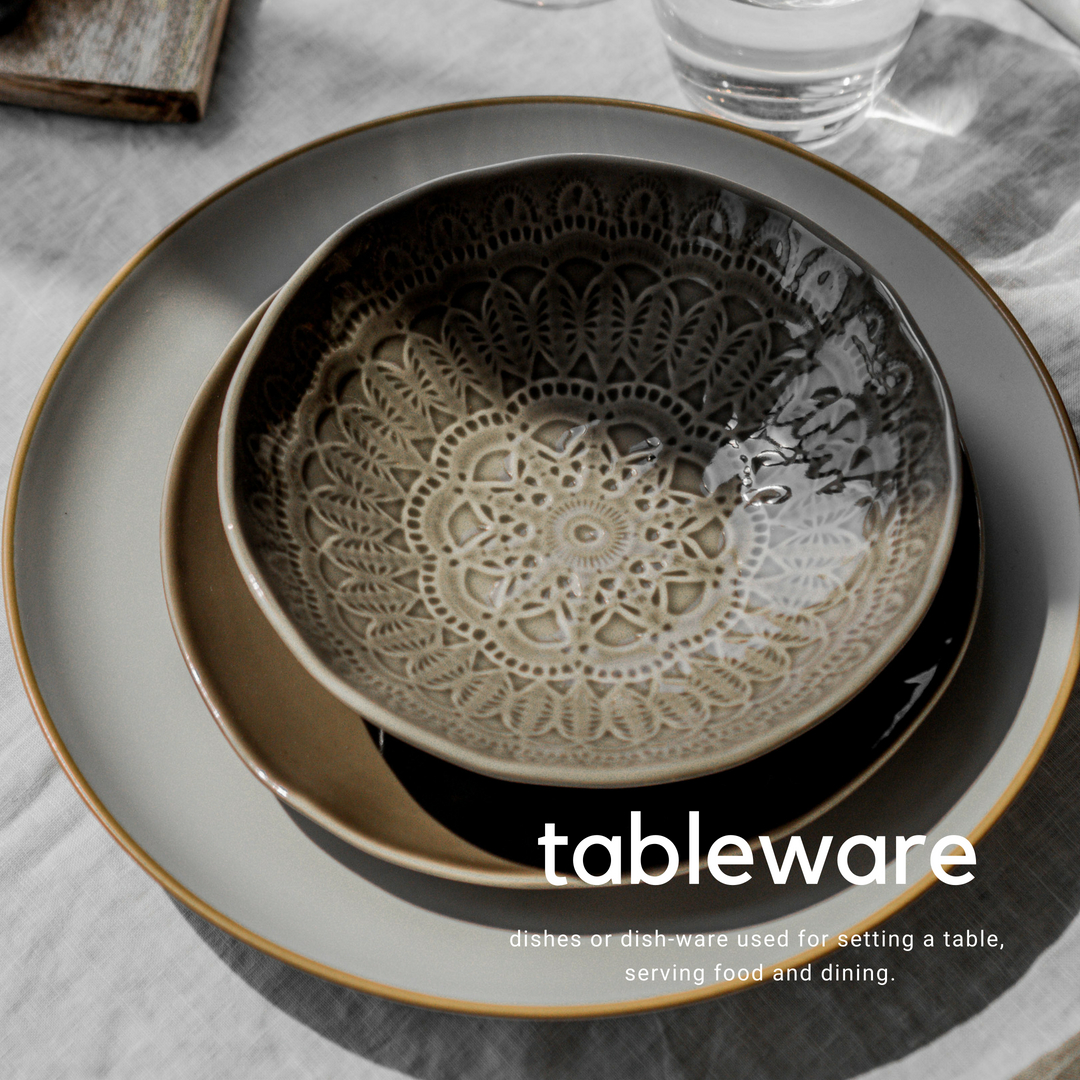 "food is key to happiness and helps build a happier life, so invite more people round to share your mealtimes and the joy."
There is something so special about sitting around a table and sharing a home cooked meal with the people you love most.
Over the long weekend, I did something I haven't done in a long time… grab my apron, cook and entertain for loved ones. Ok, maybe that's two things I haven't done in awhile. I miss spending time the kitchen, stepping out of my comfort zone and getting creative. When I was in culinary school, it was a norm for me to get creative in the kitchen and experiment with ingredients both in and out of class. I remember spending my days off going through old cookbooks, bookmarking pages of recipes I want to try and getting excited to step out of the house to go grocery shopping! Now that my schedule is all over the place with work, I cherish moments when I can relive those memories on my days off.
I always say that cooking is only halfway to entertaining. It's the attention to details that builds an experience. I grew up in a household where entertaining guests was and still is a norm. Whether it's afternoon tea with friends and family or an elaborate dinner party, my parents sure taught me the skills needed to put together a table spread that was always a crowd pleaser. Now, most people get scared with the mention of the term entertaining as it can sometimes come off as pretentious. However, this is not always the case! As a host, you have the power to create and curate your own experience.
Some people shop for clothes, others buy jewelry but for me what excites me the most is kitchenware and home decor. This week I'm excited to announce my partnership with STRUCTUBE to showcase how easy it is to pick and choose from their new dinnerware line to put together a table spread that will leave your guests in awe when they arrive. The best part? It'll only take you a few minutes to do!
let's get started.
step one: theme
A theme allows you to create and curate a remarkable experience for your guests. I decided to cook and draw inspiration from one of my favourite cookbooks: The Kinfolk Table.
My simple yet delicious spread consisted of:
Cheese + Charcuterie Platter served with Fresh Fruit + Bread

Panzanella Salad

Grilled Endives

Pesto Alfredo Linguini with Roasted Vegetables

Wine - Rose and Prosecco
step two: tablecloth + napkins
This is completely optional but to go with the vision I had in mind, I opted for a classic white linen table cloth. If you don't have linen, a regular white table cloth will work the same! For napkins, I stuck to the linen theme and went for a neutral beige to compliment the white.
step three: flowers
There is something so warm and inviting about flowers on a table. Fresh flowers transform your table and home instantly and brings in a sense of freshness. Since I had family visiting over the long weekend, I opted for an extravagant flower arrangement from Wild North Flowers to celebrate however you don't need something extravagant to create a wow factor. Just grab some fresh flowers from your local store and put them in a vase for a simple yet stunning centrepiece. To avoid the water from my vase to leak onto my linen tablecloth, I used the BATIK marble tray. This tray screams luxury with an affordable price tag.
step five: glassware
A bottle (sometimes two) of wine always makes it to my table therefore I always ensure I have two glasses for my guests - one for water and the other for wine! Luckily Structube has a matching set for both. I opted for the SHIMMER set of 4 tumblers and wine glasses. The gold-rim on these glasses is so pleasing to the eye.
If you want to take it to the next level like I did, having a pitcher of water at the table makes it easy and accessible for your guests. I fell in love with the beautiful floral design on the AMFORA ceramic pitcher so I knew I had to get it! Additionally, you can use this pitcher to serve another drink of your choice if you're not serving alcohol at your party or use it as a vase for your floral centrepiece.
step seven: candles
I'm a sucker for candles. It instantly makes a space more cozy. To compliment my gold flatware, I opted for the ADELE metal candle holders. Don't have candle sticks at home for the candle holder? Don't worry, Structube has those covered for you as well! I picked up the LUMIA handmade stick candles.
step four: dinnerware + flatware
This is the most important element! You can set the mood of your table just by type of dinnerware you choose. Personally, I love mixing and matching my dinnerware to give my table more depth. To stick to my theme, I chose to combine the ATTICA and ZAGREB 16-piece ceramic dinnerware sets. Made of stoneware with a crisp and clean design, the ATTICA made a perfect base. I then stacked the dinner plates with the ZAGREB Mediterranean-inspired side plate and bowl. The design pattern on the ZAGREB is an eye-catcher and the warm earth tones really complimented my table. Lastly, to tie everything together I opted for the LOUVRE 20-piece gold flatware set. Nothing says elegance like gold flatware.
step six: serving bowls
To avoid having a messy pot at table, opt for serving bowls! I whipped up a hearty panzanella salad for my guests and served it in the MESSINI ceramic bowl. The two-tone on this bowl and the crisp lines add a pop of colour to the table. I chose the dark-blue one but if blue isn't your colour, it also comes in a grey, red and yellow!
final step: accessorize
Bring out items from your kitchen that guests may need and use it as props to fill in the little gaps at your table. I cut out fresh lemons to squeeze onto the pasta I served, fresh fruit to compliment my cheese + charcuterie platter, a jar of chili oil for the bread and/or pasta and lastly a copy of the Kinfolk Table - where I drew inspiration for this spread. It also makes for a great conversation starter.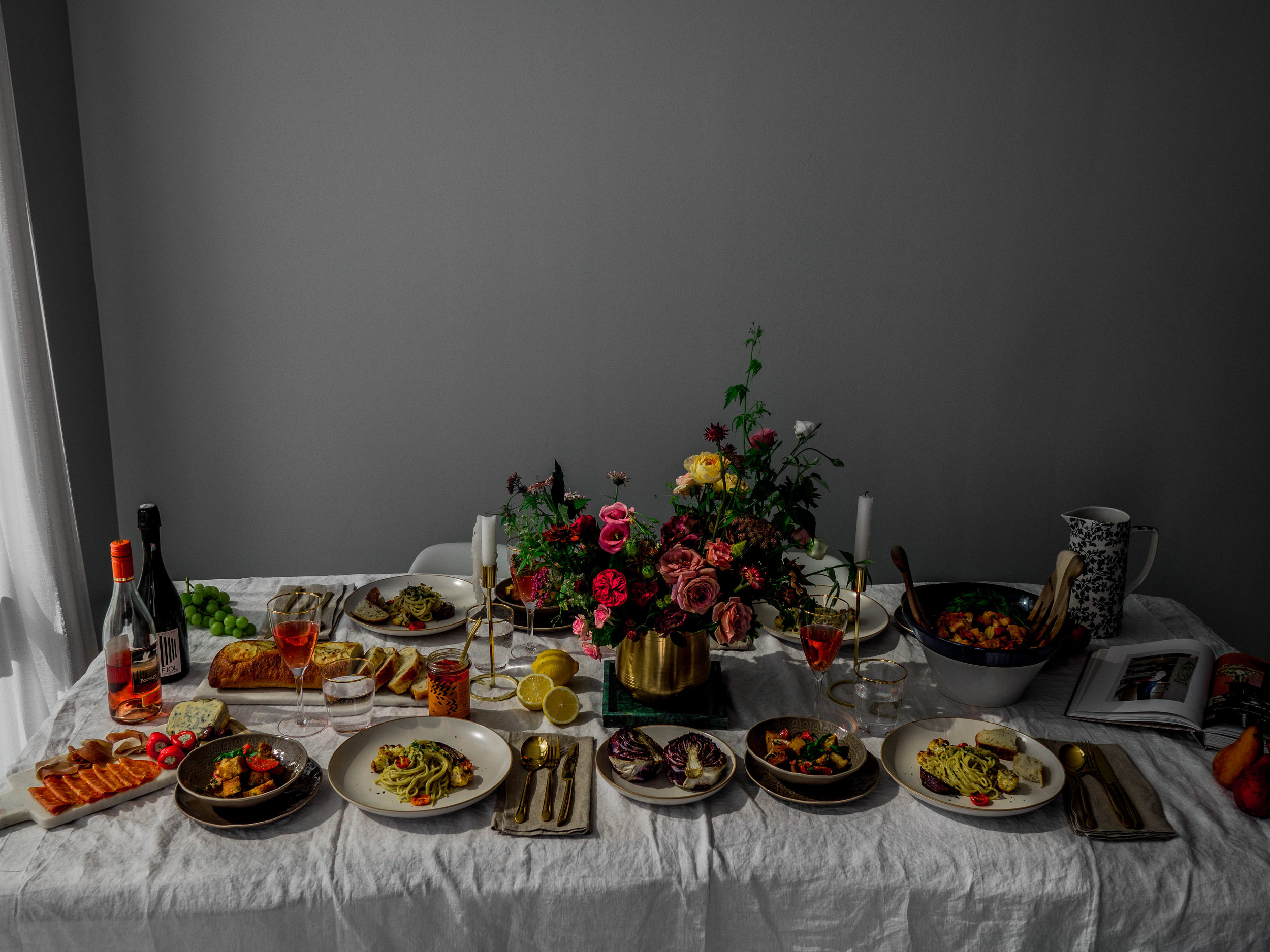 catch my process from start to finish here in this quick video.
DISCLAIMER: THIS POST IS IN COLLABORATION WITH STRUCTUBE CANADA. HOWEVER ALL THOUGHTS AND OPINIONS EXPRESSED ARE MY OWN.