Pizza Cioccolato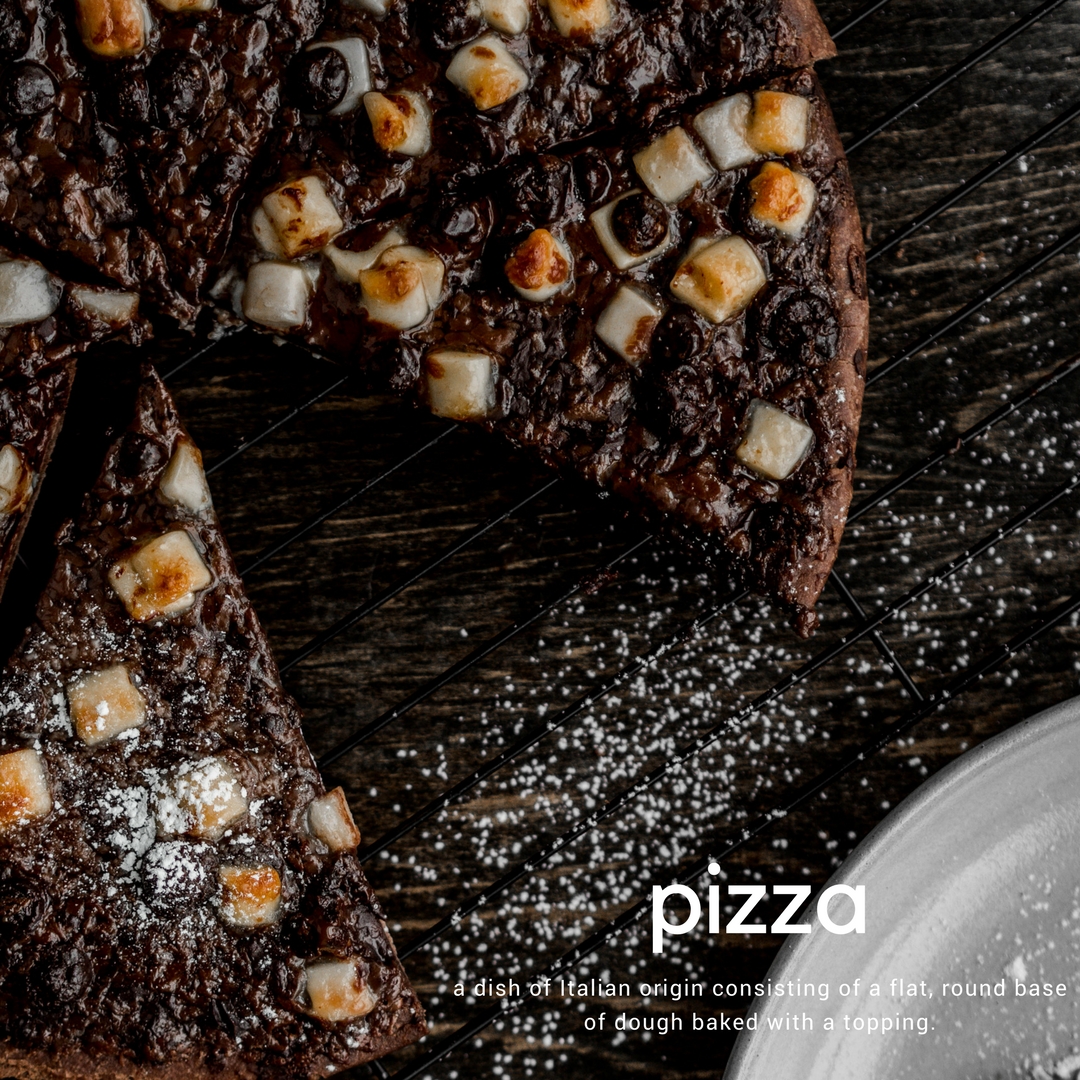 fresh out of the oven: an indulgent dessert pizza made with a ristorante chocolate crust and topped with three types of chocolate.
"That's too much chocolate" said no one ever. There are many reasons to love pizza, especially when it's topped with not one, not two, but three different types of chocolate: dark, milk and white all baked on Dr. Oetker's classic, Ristorante style thin crust pizza... a chocolate lovers dream come true!
Oven cranked to 425. Aprons on. Table Set. Let's dig in!
Chocolate and I have been and always will be inseparable. They say "an apple a day keeps the doctor away", but for me it was always a bar of chocolate and over the years, my love for chocolate hasn't changed. I'm the kind of guy that has to end every meal with something sweet, even if that something sweet is a tiny piece of dark chocolate. But, what if I tell you that you can skip your "main course" and let chocolate be the star of your meal instead? It's something I've been waiting on for awhile and when Dr. Oetker finally announced that they combined my two loves into one: chocolate and pizza, it was a chocolate lover's dream come true!
Second to chocolate, or perhaps right before chocolate, stands my love for pizza. If you know me well, pizza is my biggest weakness. I love a classic, thin crust pizza that's still perfectly foldable with a tasty and slightly crispy crust. For decades, Dr. Oetker's Ristorante Pizza has been naturally known for their crispy, thin crust. This time around, they managed to maintain the crust that they already perfected, but made it even better (with the help of chocolate of course!). Now you're probably thinking, "a chocolate crust for an already chocolate-y pizza sounds like chocolate overload" and just like you, I thought the same when I first read the ingredients. But, surprisingly the chocolate crust itself is not overpowering in flavour at all! It's not sweetened, leaving it up to the toppings to be the star of the pizza.
When it comes to toppings, the creaminess of the white chocolate, smoothness of the milk chocolate and the hint of bitterness from the dark chocolate perfectly balances out all of the flavours. The best part? Similar to a regular pizza, Dr. Oetkar didn't compromise on playing with textures. They used white chocolate chunks, milk chocolate shavings and lastly, dark chocolate chips. Keeping in mind that each type of chocolate has different melting points, Dr. Oetker was able to find a bake time that ensures that the chocolates still maintains its texture without looking like a giant chocolate mush because let's be honest, nobody likes mush.
Ready in 10 minutes, this pizza is best enjoyed when it's fresh out of the oven and the chocolate is still gooey. To dig in, I invited my two best friends over who were visiting Toronto from back home in Calgary. Both of them have a major sweet tooth just like myself, so you can only imagine the excitement on their faces when I told them about this pizza. Dusted with a little bit of powdered sugar and served with a cold glass of milk, this Cioccolato Pizza hit a sweet spot in our hearts as we shared laughs and caught up on each others lives. I have been a huge fan of their classic Ristorante pizza for years and with the launch of their new SKU in the frozen pizza meal category, it's safe to say my freezer will always be stocked with this sweet treat for the next time I host.
If you've made it this far into reading this post, you win because guess what? This Pizza Cioccolato is now available in stores!
So what are you waiting for? Gather your loved ones, pop open a bottle of wine (or milk!) and bite into a slice of this decadent chocolate pizza. Oh, and don't forget to invite me!
Crispy chocolate thin crust base, chocolate sauce, white chocolate chunks, milk chocolate shavings and lastly, dark chocolate chips.
During Valentine's Day, I had the opportunity to attend Cioccolato's Ristorante, the world's only chocolate pizzeria where everything was made out of chocolate. It was comparable to stepping into Willy Wonka's chocolate factory, except instead of Willy Wonka it was Dr. Oetkar.
Without giving away too much of what made this Ristorante special, I invite you to click the link to your right and see for yourself!
DISCLAIMER: THIS POST IS IN COLLABORATION WITH DR. OETKAR CANADA. HOWEVER ALL THOUGHTS AND OPINIONS EXPRESSED ARE MY OWN.